MEXICO CITY 2019:
ARCHITECTURE & FOOD experience
July 3-7, 2019
registration deadline: May 29*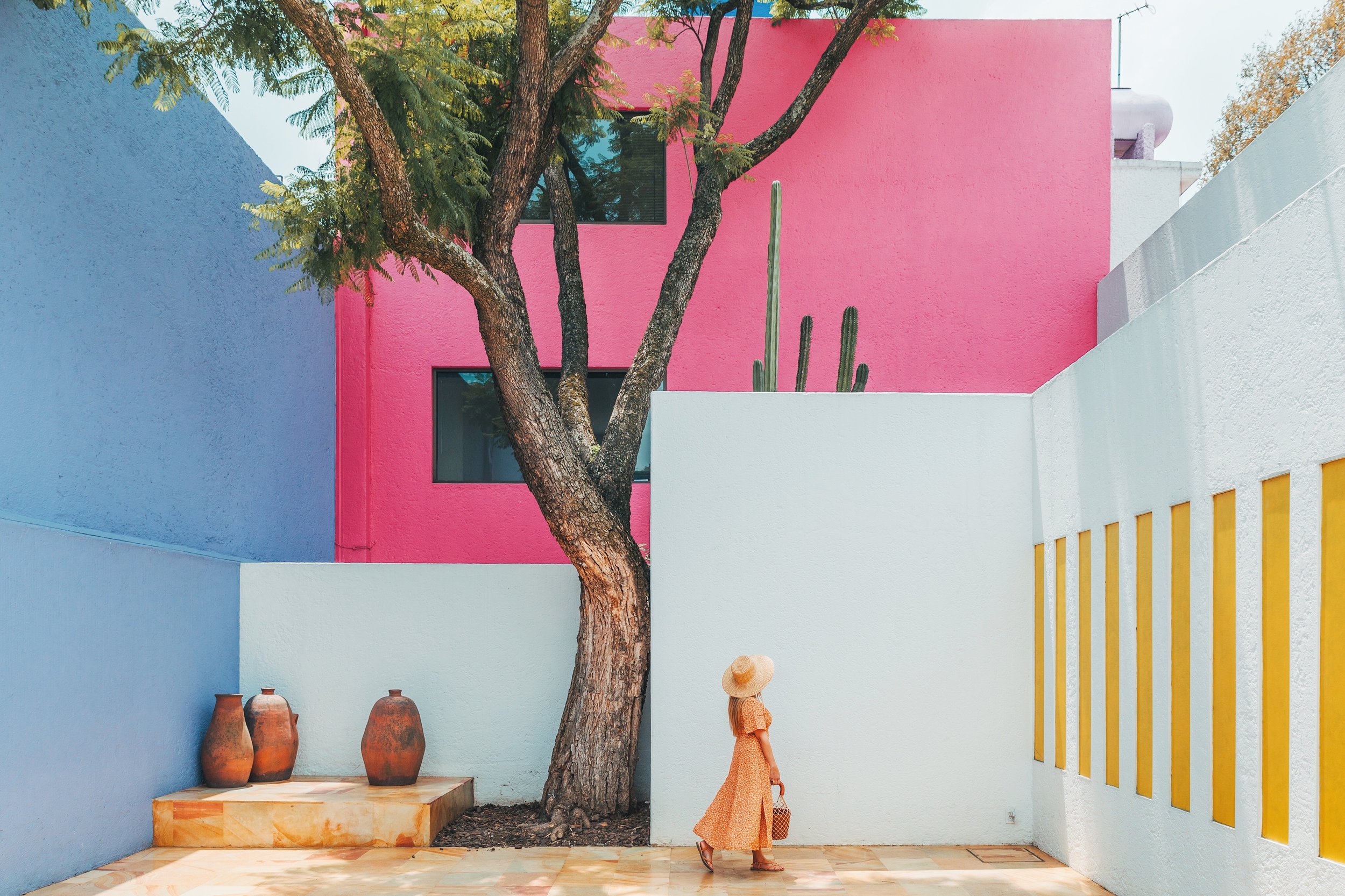 Join @AnaNewYork, casa gilardi, + Grupo habita for an immersive architecture and food EXPERIENCE in CDMx!
We've pulled all the strings to invite you to the most thoughtfully curated tour highlighting the works of Luis Barragán, Mexico's most celebrated architect, along with some of the tastiest meals imaginable in Mexico City, one of National Geographic's Best Trips of 2019 top cities. Along with our partners Casa Gilardi and Grupo Habita, we're making the impossible happen for an intimate group of our most dedicated friends. With our home base at the hotspot Hotel Condesa, we'll venture North, East, South, and West to peek into the private and limited access locations that we've never even been able to catch in a single trip ourselves…until now! Think of this as your insiders-guide to all the hidden gems within the pink-and-purple walls and everything that inspired the world renowned hue known as (our favorite) Rosa Mexicano.
WHO IS THIS TRIP IDEAL FOR?
Lovers of architecture—in particular, Luis Barragán!—and foodies with a sense of adventure will fit right in with this adventure. While none of the activities themselves are particularly physically demanding, guests should be readily adaptable and comfortable with full days, spurts of travel, a bit of walking, and life's happy surprises. There will be an overwhelming number of opportunities for photos, so film junkies will feel right at home—just remember to pack your extra batteries and a SIM card, or two ;)
ITINERARY SUMMARY*
DAY 1: BIENVENIDOS
/ Arrival and hotel check-in
/ Welcome Event and Meet & Greet
DAY 2: PINK AS FAR AS THE EYE CAN SEE
/ Breakfast at the hotel
/ Guided Barragán architectural tour: Studio Barragán
/ Downtime at the hotel
/ Dinner at Pujol
DAY 3: BACK TO OUR ROOTS
/ Breakfast at the hotel
/ Guided Barragán architectural tour: San Angel
/ Xochimilco farm-to-table boat ride & sunset dinner
DAY 4: NOT ANOTHER LAZY SATURDAY
/ Breakfast at the hotel
/ Mercado Sábado
/ Guided Barragán architectural tour: Casa Pedregal
/ Farewell cocktail @ Casa Gilardi
DAY 5: IT'S SO HARD TO SAY GOODBYE
/ Breakfast
/ Artisan market
/ Stroll through Mercado San Juan
/ Send-off and holding back tears…
PRICING & PAYMENT
The trip is $3,200USD per person or $2,800USD per person in a shared room. A 40% deposit is required to secure your spot. Final payment is due no later than 45 days prior to your arrival on or before May 19, 2019. Bookings made less than 45 days from the beginning of the trip must be paid in full. Payments must be made by credit card in our shop through the link below or arranged by PayPal via email request or send an email to travel@ananewyork.com. Please read our FAQ, and TRAVEL TERMS AND CONDITIONS for more information.
WHAT'S INCLUDED
UP CLOSE AND PERSONAL TRAVEL WITH @ANANEWYORK!
HOTEL (4 NIGHTS)
TRANSPORTATION TO AND FROM AIRPORT / HOTEL
WELCOME COCKTAIL
TRANSPORTATION TO ALL SCHEDULED EVENTS
ENTRY TO ALL EVENTS/LOCATIONS
ARCHITECTURE SPECIALIST/TOUR GUIDE
BILINGUAL GUIDES
MEALS: BREAKFAST (AT HOTEL), DINNERS, SNACKS/WATER
WHAT'S NOT INCLUDED
AIRFARE
MEALS: LUNCH
TRAVEL INSURANCE (REQUIRED)
VISAS, FEES, AND TRAVEL RELATED EXPENSES
INCIDENTAL EXPENSES
ALCOHOL (except where noted)
*Registration after May 29 is subject to accommodation availability, so please reach out to inquire to travel@ananewyork.com.
YOU HAD ME AT "JOIN @ANANEWYORK…"
*A full itinerary will be made available to confirmed guests in the week prior to the beginning of the trip. Trip itinerary and details are subject to change without notice due to changes in availability, weather, or unforeseen circumstances. Please read our TRAVEL TERMS & CONDITIONS to learn more.